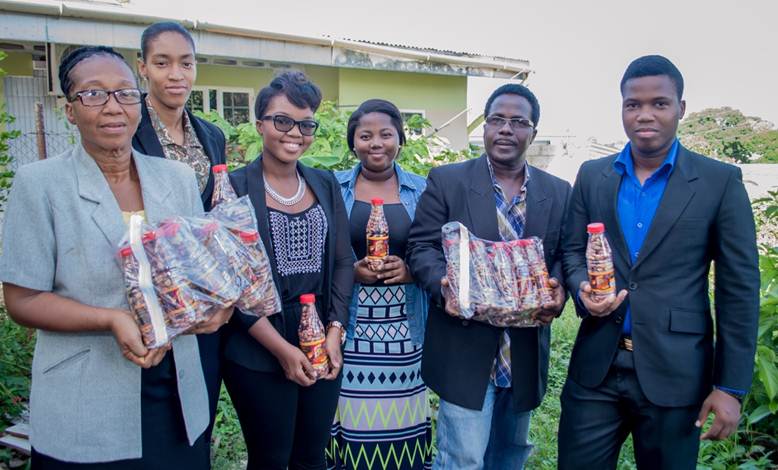 The old adage that the family who prays together stays together can also be likened to family support strengthens your entrepreneurial journey. This is definitely the testimony of 25 year old Jabari Lynch, another of YBTT's success stories, whose greatest asset associated with his success, is the extraordinary support he receives from his family as he traverses up the entrepreneurial ladder!
Trading as "Lynch's Nuts and Stuff", Lynch shared his childhood experience whilst growing up in an entrepreneurial home. "From the age of 7 years, I saw rows of bottled nuts; whilst my Dad baked the nuts, my Mom would place the labels on the bottles. My first thought was, if my parents can, I can, because they made me." Lynch continued "I understood the concept of wealth, and as a result, I got a piggy bank and started saving; though my parents supported me, I used some of my savings to purchase extra items which I needed." 
Lynch's entrepreneurial journey started at the age of 14, when  his fellow students enjoyed the tasty nuts that he sold whilst attending secondary school. He firmly believes that nuts is a staple food item which must be included in one's daily diet. As he puts it "there is a sociological correlation between agriculture and nuts, as well as procreation and fertility." Though the business is a united family concern, Lynch decided to enhance the product with the introduction of additives including cranberries, raisins and pineapples with a spicy flavor, which is the business' unique selling point!
In sharing his YBTT experience , Lynch stated "it was a totally positive experience as I've learnt a lot, and was the beneficiary of the organization's full suite of services including training, funding and mentoring; the aftercare support is tremendous."
Lynch's current customer-base comprises of  35 stores which include supermarkets, mini-marts, barber shops, etc. and  is aiming to increase his client base to approximately 300 by the end of the year. Lynch has a huge vision for his business "I intend to develop a succession plan with the capacity to continuously generate employment and create wealth."
Lynch's number one philosophy in life is to please God even through mistakes and failures! His advice to other young persons "as young as you are, pursue your entrepreneurial dream; persevere in faith and put everything before God."
By: Sandrine Rattan
Project Co-ordinator – Stakeholder & Media Relations (YBTT)
Published in the Trinidad and Tobago Newsday on Thursday, July 30th, 2015